Description
Interstellar is the most feature rich and user-friendly discord bot for space-themed discord servers out there.
General
Notifications
Utility
Web Dashboard
If you're looking for Images, they're at the bottom. 😃
Quick Links:
Interstellar
Interstellar is the most feature rich and user-friendly discord bot for space-themed discord servers out there. If you're interested into the rockets, astronomy, playing Kerbal Space Program, or just simply looking at some pretty space pictures, Interstellar will provide you with everything you need! With over 20 commands, auto-posting for the Astronomy Picture of the Day and reminders for Rocket Launches, all customisable via it's web dashboard which lets you change how the bot fundamentially behaves, the possibillities are endless for Interstellar. Interstellar was written by a space enthusiast so you know it will have a lot of care and attention put into it's features.
If by chance Interstellar doesn't have what you're looking for, request it on our Gitlab or in our Support Discord, We aren't afraid to add stuff. 99.9% of the features we've added are from user suggestions, so don't be afraid!
Donations
Interstellar doesn't require a payment or any kind of action to use, you simply invite it and configure it to your liking. This doesn't mean it's free for us to maintain. Interstellar is quite an expensive project to keep alive, as we have to pay for servers, web hosting, and ensure it has enough resources and maintanence to keep up with requests. To help us out, you could donate to the guy who runs it here - they're greatly appreciated and help out tremendously with costs. Even the smallest amount is welcome ❤️
If you can't donate, simply voting for the bot sometimes helps out a lot too! A lot more than you might think 😃
Features
Keep Track of Launches

Interstellar tracks the next upcoming launches for you.
You can see the next launches with they're approximate T- so you can prepare in advance.
You can also make Interstellar automatically remind you a set number of hours before the launch, up to a whole day. It will get posted to a channel of your choosing if you enable it.
The automatic reminders can also ping a list of roles.

Astronomy Picture of The Day

You can view the Astronomy Picture of The Day, a picture updated once every day by NASA.
Interstellar can automatically-post the Astronomy Picture of The Day once it gets updated, to a certain channel of your choosing while pinging a certain role. Just like Launch Reminders.

Space Trivia

Interstellar allows you to set up 20 trivia commands for different topics in space.
You can enable trivia commands, set up 20 questions and answers for each.
A timeout for these questions prevents cheating.

Highly Customisable

All settings are per-server, meaning you can make Interstellar behave differently in one server than it does in another.
Change the prefix for that server, theme color, response to being pinged or if it should DM your help messages.
Enable and add Trivia questions to entertain your members.
Enable and customise Launch Reminders and Astronomy Picture of The Day posts. Set the message they send, what channel to post it to, along with what roles to ping.

Find out cool information

See every astronaut in space currently - this includes the ISS.
Find out about the planets and some dwarf-planets in our solar system, including descriptions and cool images!
Find out about cool missions, such as the Hubble Space Telescope and the EPIC Camera on the Deep Space Climate Observatory.
Learn about the near-earth objects currently hurtling towards us.
View the weather on Mars, as observed by NASA's Insight lander.
Test yourself with trivia commands.

View cool and fascinating images

View the Astronomy Picture of The Day from NASA, which changes every day providing you with new content.
View images from any rover that's roamed Mars's surface. Filter by camera, SOL and rover to find what you want.
Search and view any image from NASA's database, which extends all the way back to 1920.
View images of Earth and view how it changes with the 'EPIC' camera - or if you want to be boring, the Earth Polychromatic Imaging Camera.
View nebula and cool images of galaxies with images taken by the Hubble Space Telescope.
View images of our neibouring planets.

Perform Calculations.

Perform calculations to help you plan out space missions, particularly for Kerbal Space Program.
Figure out the Delta-V a vehicle will have, along with figuring out the properties of an orbit.
Figure out the Delta-V to go anywhere. This is for the real-life solar system, or for Kerbal's system.
View the coordernates as to where the ISS is, to track it.
Start-Up Guide
To begin using Interstellar, you first need to invite it into your server. If you don't want to modify Interstellar in any way, that's all it takes!
To configure Interstellar, you must be the server owner for security reasons. To continue, go to Interstellar's Website. Log in with the top-right log in button, and go the Dashboard from the navigation bar. The Dashboard will show you all the servers that you own that also have Interstellar invited to them. Select the one you wish to edit and click "edit server". You'll be redirected to the edit settings page.
In the Settings Page, you can see all the 'categories' of settings you can edit on the side. Click one and it will take you to the settings for that specific part of Interstellar's functionality. After editing your settings, remember to click 'Save Settings' at the bottom and wait up to a minute for them to apply. It's that simple!
Where can I suggest features or report bugs?
Just shout out your ideas in Interstellar's Support Discord and I'll happily listen. Alternatively, you can use Interstellar's Gitlab Issues Page.
Interstellar's Gitlab Page is where you can keep track of what I'm adding, when I'm adding it, and how far along I am in adding it. You can easily make an issue there to suggest a feature or report a bug if you have a gitlab account.
I'm more of a visual learner. Any pictures?
Absolutely! Here you go!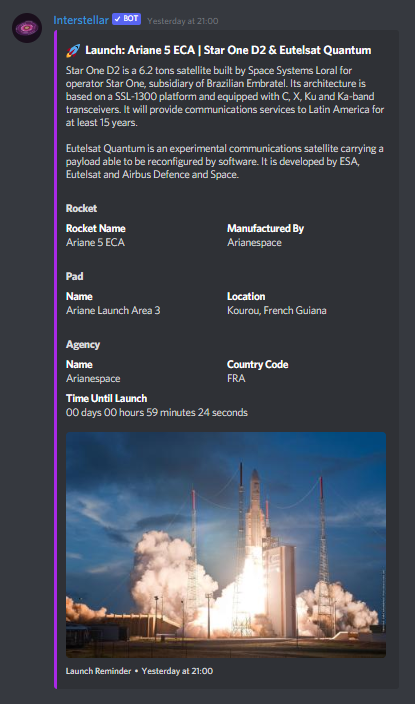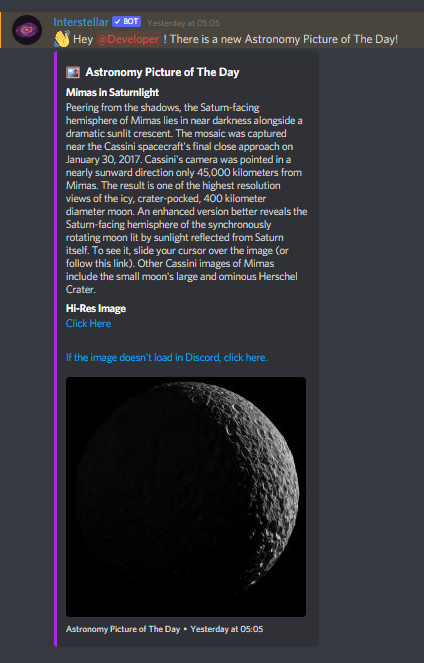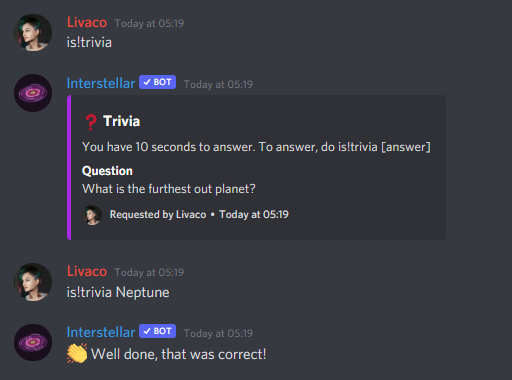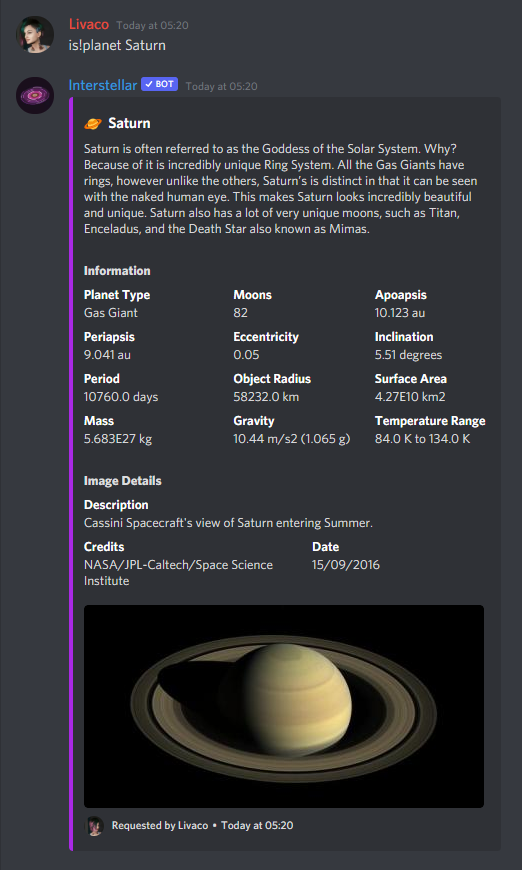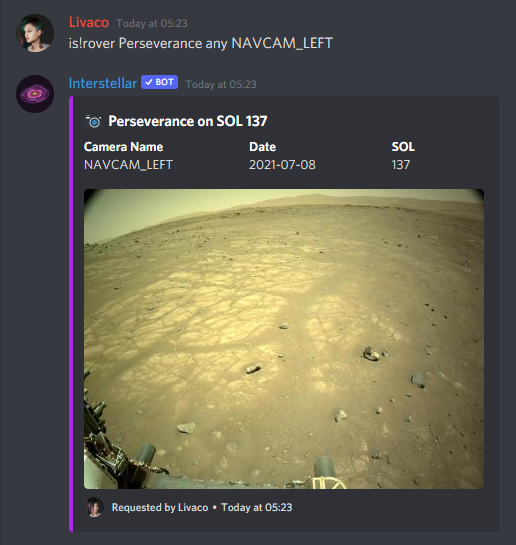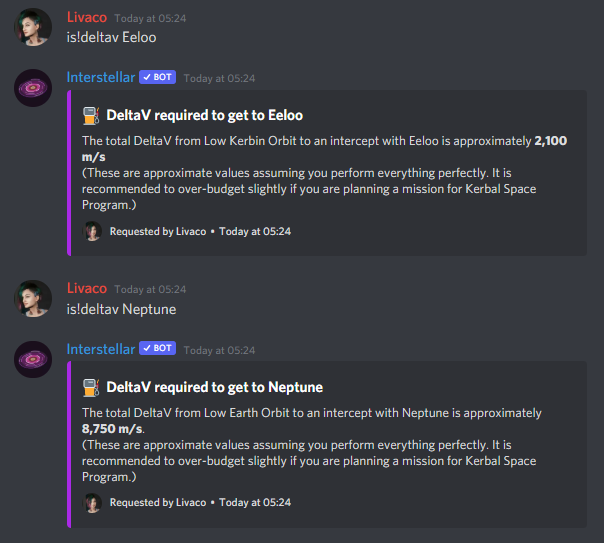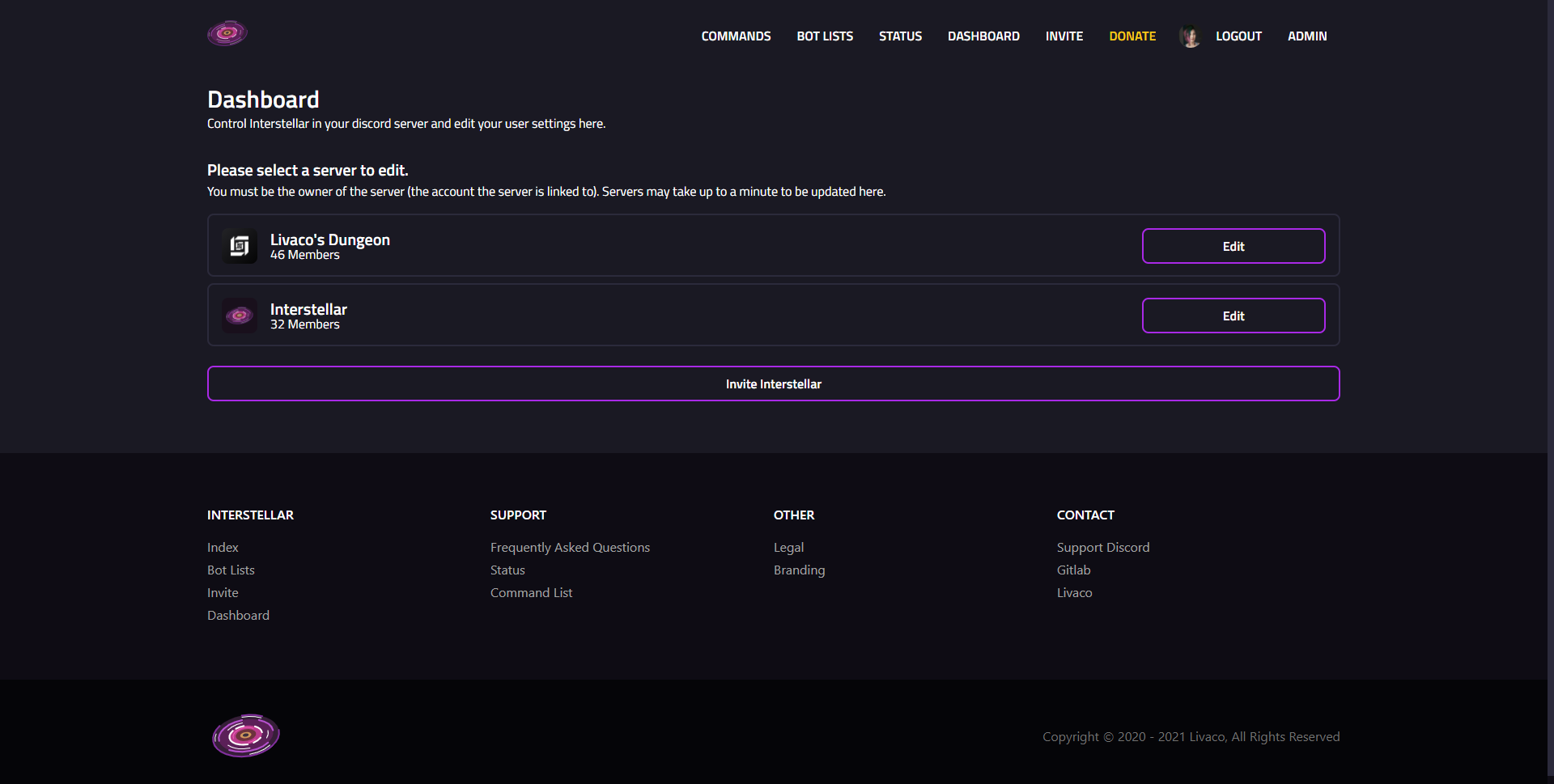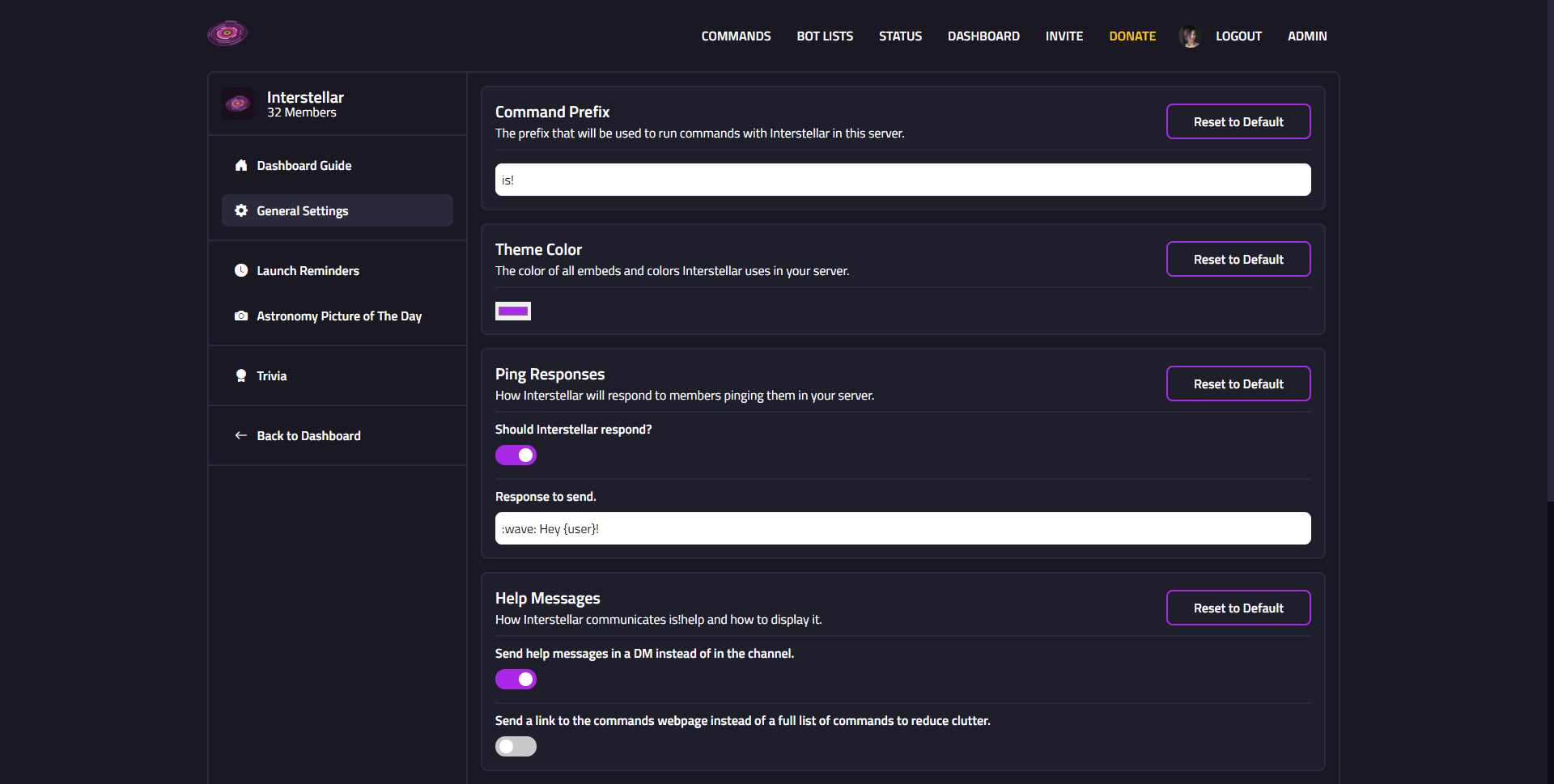 Want to share Interstellar along with other bots? Click here to add it to a list!