Description
A friendly multi-task bot, with moderation, fun, rss, levels and many other things! Available in a few languages, and highly flexible. You can use !help or !about commands to start your trip !
General
Fun
Levels
Moderation
Multiple Languages
Notifications
Utility
I've been through a lot of servers, met a lot of administrators, and a recurring problem I've been able to find is the incredible number of bots needed to run a nice server. That's why I embarked on the adventure, took my courage with both hands and went to learn Discord management in Python. One thing led to another, my bot has experienced many things, and has greatly improved. Today I try to do it as complete as possible, so that in an absolute ideal we only need one bot for an entire server.
I know that the result is still far off, but I'm already proud to present a bot that does a lot of moderation, diverse and varied information searches, a lot of fun, a levels system based on your activity, a rss feed tracking (Twitter, YouTube and others), and even a Discord emojis management (renaming or privatization for some roles) ! Not to mention partnership management, role-reactions, a tic-tac-toe, an original verification system, cool xp cards, Minecraft commands, and so on.
And I try, to a certain extent, to make the bot available in several languages. Currently I only have time to deal with English, French, Finnish, and half of German, but if you want to help me, don't hesitate to ask! The bot also has a very high modularity, many options are modifiable!
I still have a long way to go, so I am constantly making new updates. I plan in the relatively near future a better rss management, as well as more mini games and an auto-role menu. I hope to get there soon!
It is strongly recommended to come to the support server to follow the news, report bugs, or vote for future additions. You can get the documentation and an invite to the support server in the !about command.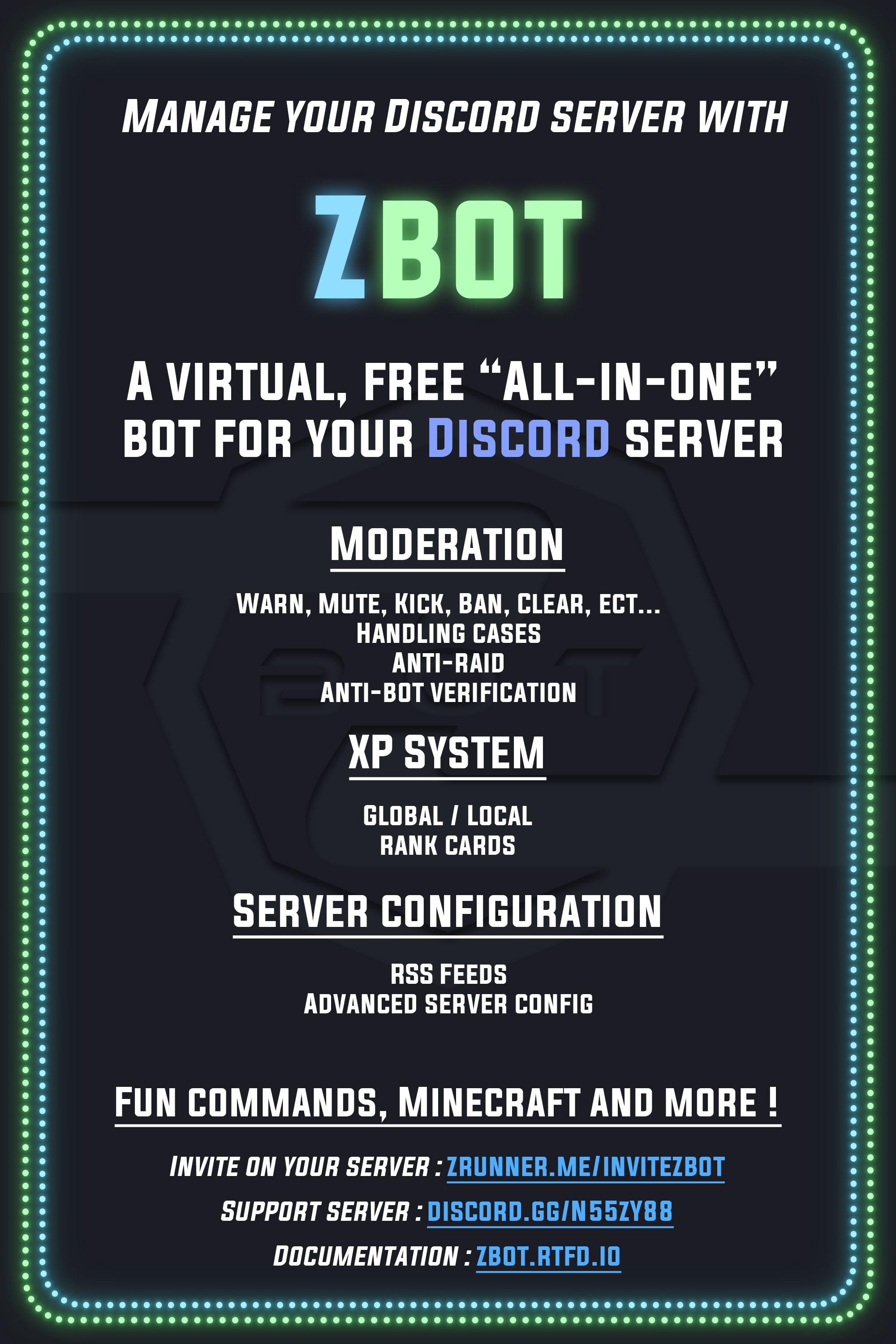 Want to share Zbot along with other bots? Click here to add it to a list!