Description
All-in-one calendar bot for Discord. Recurring events, magic time zones, event reminders, role based sign-ups, and more!
General
Notifications
Utility
Gone are the days where you need an external calendar to keep track of events; Apollo can do it all!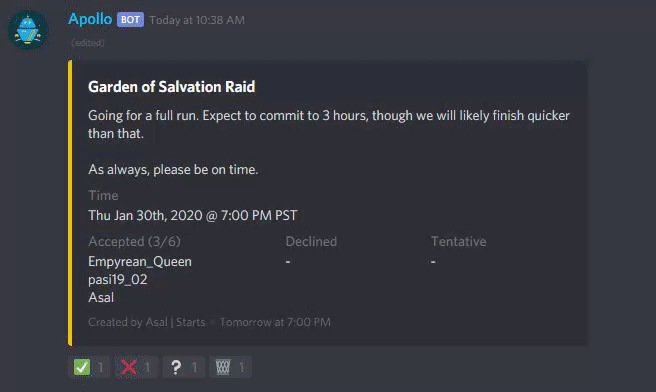 Notable Features
One-click sign ups
Automatic reminders
Role based sign ups
Recurring events
Start time is displayed in your local time zone; magic!
Intuitive time inputs
Multiple event channels to keep organized
Edit existing events
Lock down permissions for event creation and deletion with Discord roles
Want a quick demo?
Join the Apollo Discord server and head to one of the event channels.
Commands
| Command | Description |
| --- | --- |
| !event | Create an event |
| !edit | Edit an existing event |
| !channel | Create a new event channel |
| !help | Additional documentation |
| !reminders | Configure automatic reminders |
| !about | Display info about Apollo |
| !server | Configure how Apollo behaves on your server |
Want to share Apollo along with other bots? Click here to add it to a list!